Latest tourism news on October 23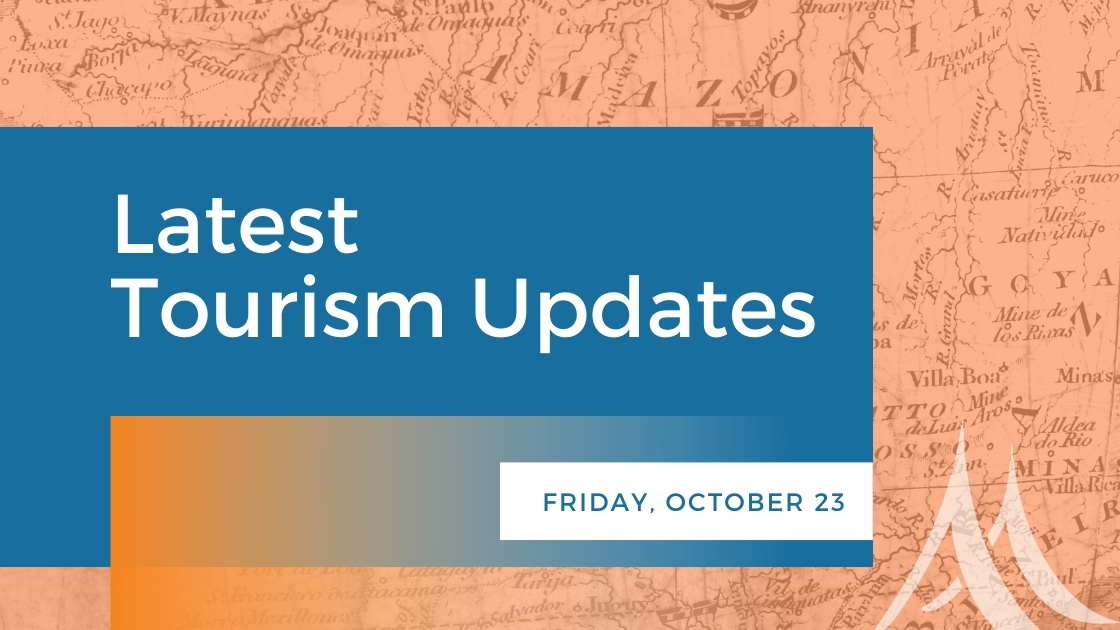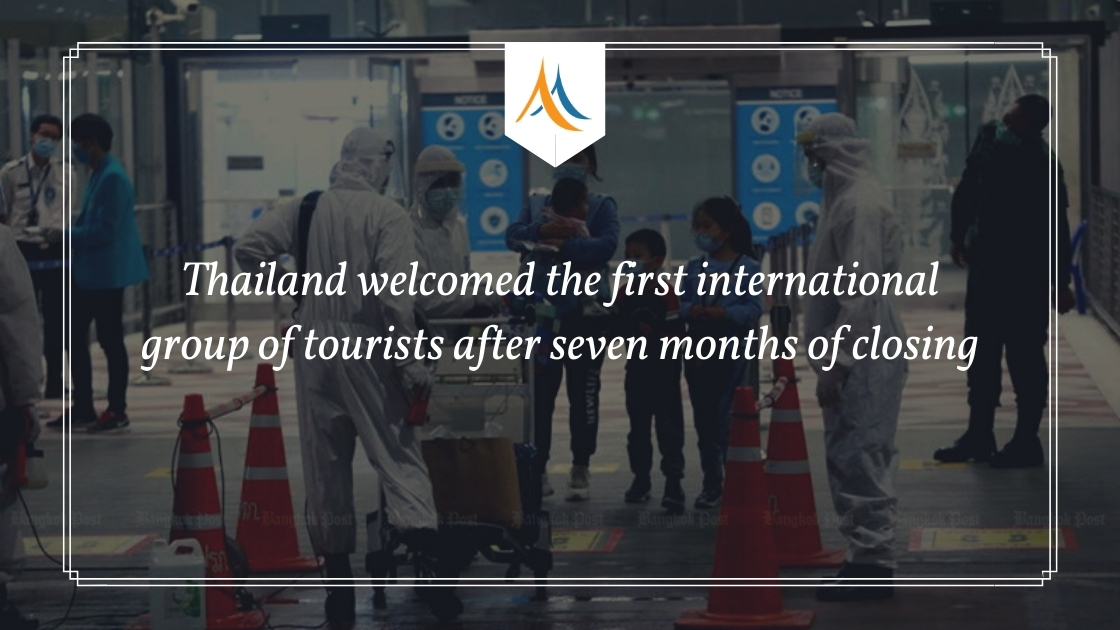 On October 20, the Tourism Authority of Thailand announced that the country had welcomed the first group of international tourists after seven months of closure due to the effects of the Covid-19 epidemic.
Accordingly, a group of 41 Chinese tourists with special tourist visas landed at Survanabuhmi International Stadium in Bangkok at 5 p.m. October 20. Upon arrival in Thailand, visitors were asked to install surveillance software on smartphones.
With the Special Tourist Visa, tourists can stay in Thailand for 90 days and can be renewed twice.
The Director General of the Tourism Authority of Thailand (TAT), Yuthasak Supasorn, said that the group of tourists had planned a resort and booked a hotel, but they would have to quarantine for 14 days in Bangkok before make your vacation.
Mr. Yuthasak added, there will be an additional group of Chinese tourists of 147 people will come to Thailand on October 26.
According to TAT estimates the visitors will spend about 800,000 Baht (about 25,000 USD) while in Thailand. Chinese tourists also make up the majority of foreign tourists traveling in Thailand, with 10.99 million arrivals in 2019.
The TAT Director General said that the return of foreign visitors is a sign of the recovery of the "smoke-free industry", and this is made possible through a series of tourism-related incentives. calendar.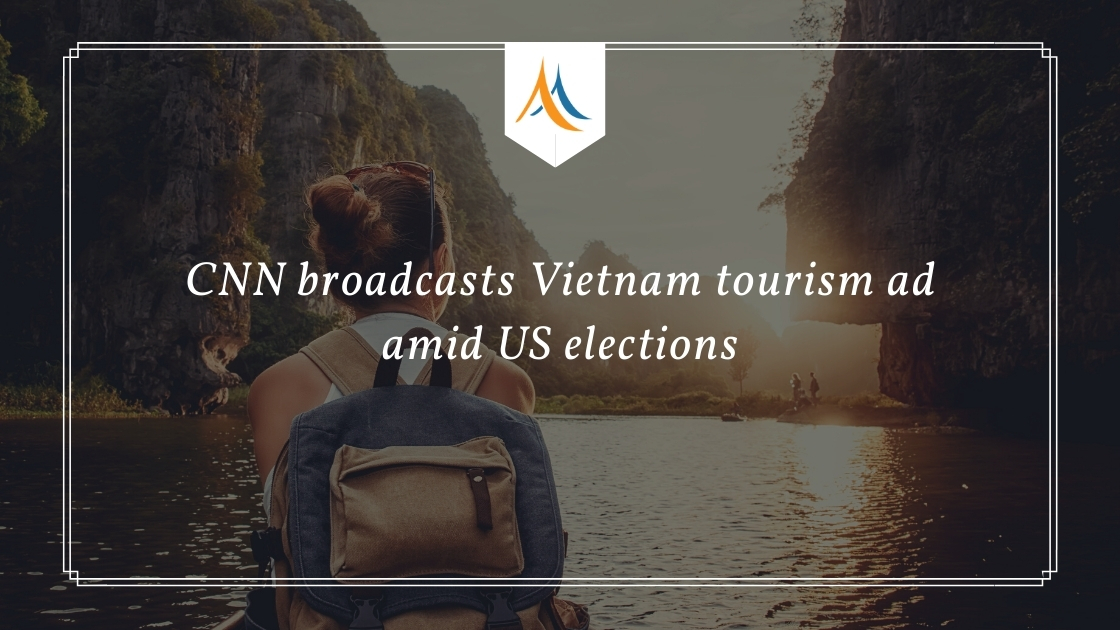 CNN has begun to air a 30-second commercial on Vietnam's natural attractions, foods and cultural heritage that seeks to promote the country's tourism.
It would be broadcast until mid-November, and is expected to be seen by a large number of global viewers tuning in for the U.S. presidential elections, said Nguyen Le Phuc, deputy head of the Vietnam National Administration of Tourism (VNAT).
The clip seeks to convey the message that Vietnam is a "safe, new and exciting" destination to visit "when you're ready to travel again".
The country has recorded no domestic Covid-19 cases for over a month, and all 56 active cases were imported.
Though the government has allowed the resumption of some international commercial flights, foreign tourists have yet to be allowed back into the country. The only foreigners currently allowed entry are those carrying diplomatic or official passports, experts, managers, highly-skilled workers, and investors, their family members, international students, and family members of Vietnamese citizens.
The VNAT, however, has begun deploying tourism promotion campaigns to prepare for industry recovery times. Besides placing the commercial ad on CNN, it is conducting other media and marketing campaigns, Phuc said.
Da Nang, central Vietnam's top tourist destination, last June broadcast commercials on BBC World News as part of efforts to revive its tourism sector, which has been hit hard by the pandemic.
Hanoi signed a $4-million tourism promotion deal with CNN for 2019-2024, but in April the two sides agreed to suspend tourism promotion ads until the Covid-19 crisis passes.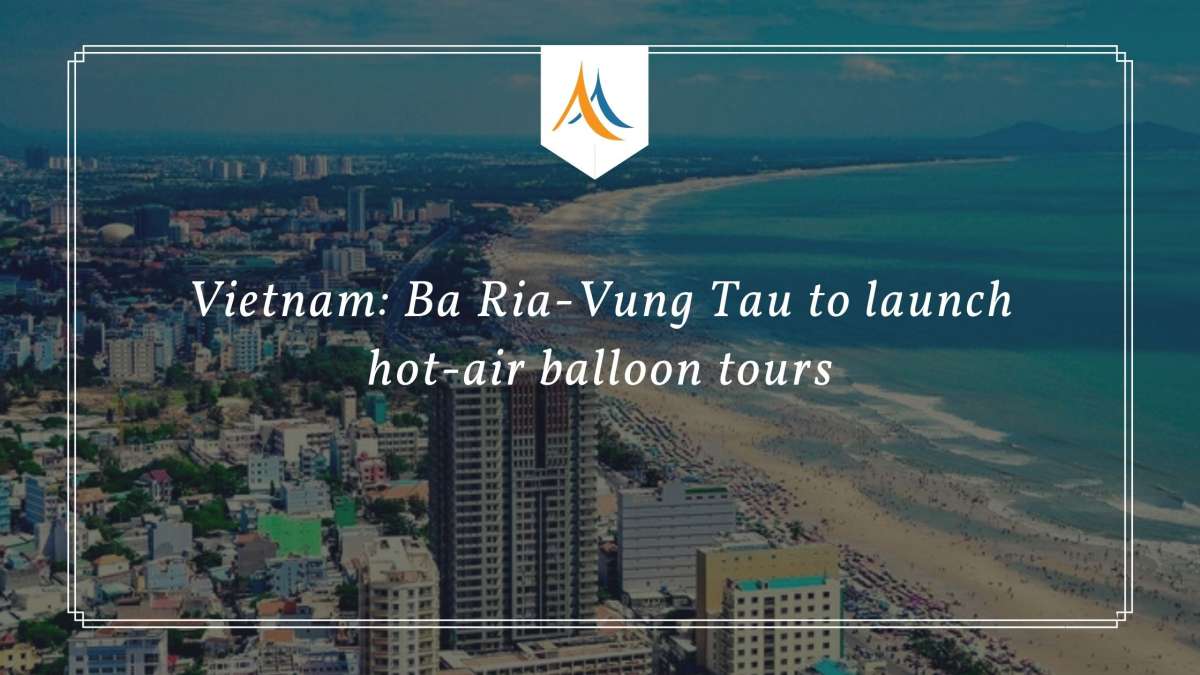 Ba Ria-Vung Tau Province, a popular beach destination in southern Vietnam, is expected to launch hot-air balloon tours this month.
Trinh Hang, director of the provincial Department of Tourism, said the Ministry of National Defense has issued a license for the Saigon Star Travel Company to operate the service.
"The company is set to submit a detailed plan to local authorities for approval and the tours could make their debut by the end of this month," he added.
The balloon rides will be available daily and the frequency will depend on weather conditions.
They will begin at 5:30-6 a.m. from Phu My and Ba Ria towns, with a balloon carrying a maximum of 10 passengers for $165 per person. The ride will last 45 minutes to an hour.
"At the height of 150 meters, passengers can enjoy a panoramic view of beaches in Vung Tau Town or rivers, forests, rice fields, villages, and urban areas in Phu My and Ba Ria," said Nguyen The Kien, chairman of the company.
Only Phan Thiet Town in the south-central province of Binh Thuan offers similar tours in Vietnam.
In recent years hot-air ballooning has become more popular in festivals in Hue, Hoi An, Da Nang, Hanoi, and Ho Chi Minh City.
Ba Ria-Vung Tau is one of Vietnam's top tourist attractions for its beatiful beaches and Con Dao Islands.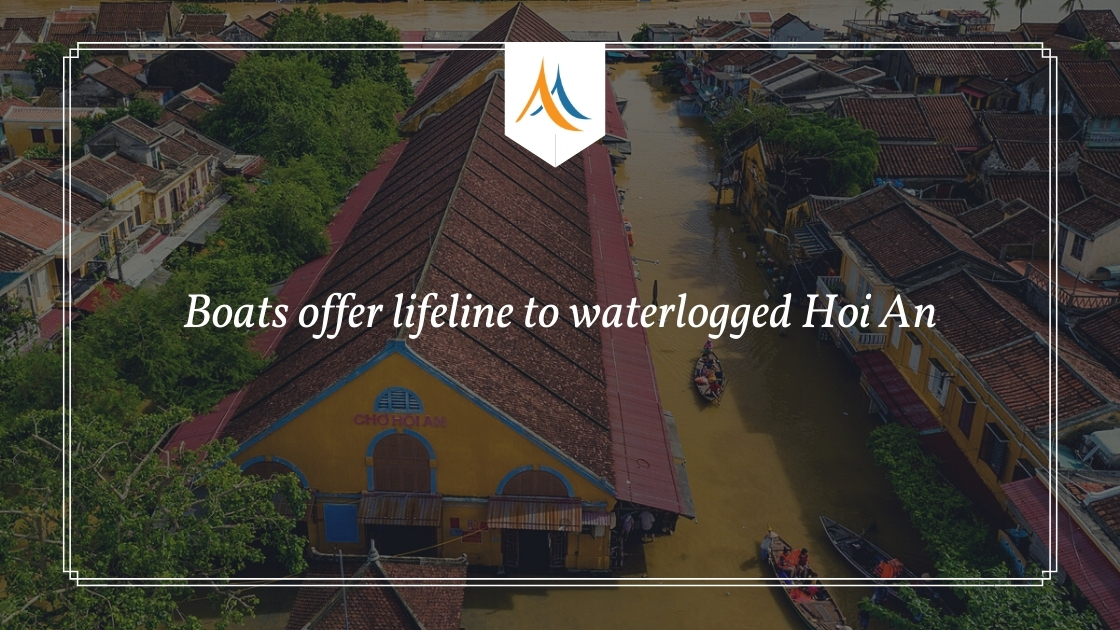 With ancient town Hoi An submerged under floodwater following prolonged heavy rains, boats have become the main means of transport locally.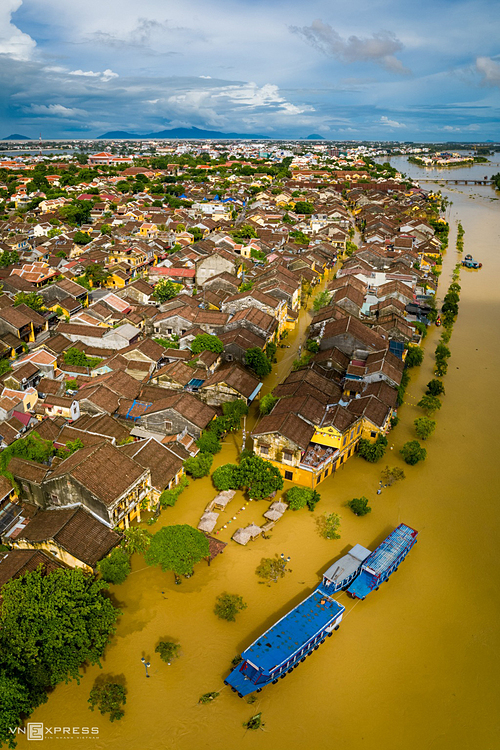 Prolonged torrential rains and water discharge from upstream hydropower reservoirs have submerged many streets in downtown Hoi An mid-October.Local lensmen Phan Vu Trong and Do Anh Vu managed to capture daily life in the town, with boats featuring as the main means of public transport.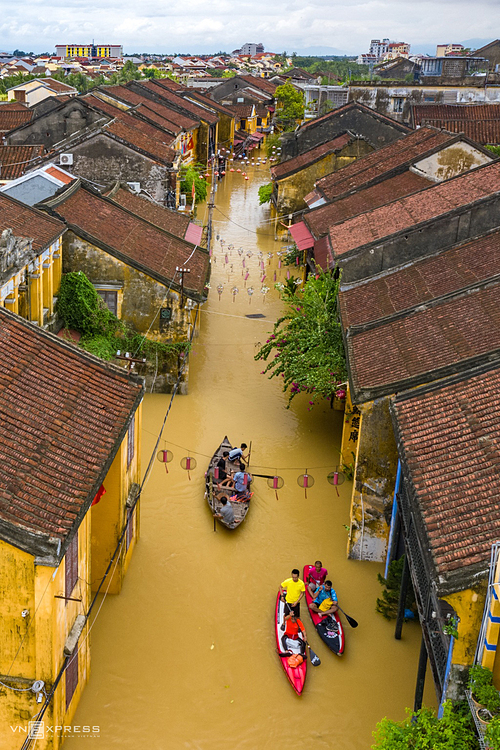 A boat and kayaks pass along Nguyen Thai Hoc Street near the Museum of Folklore on October 8.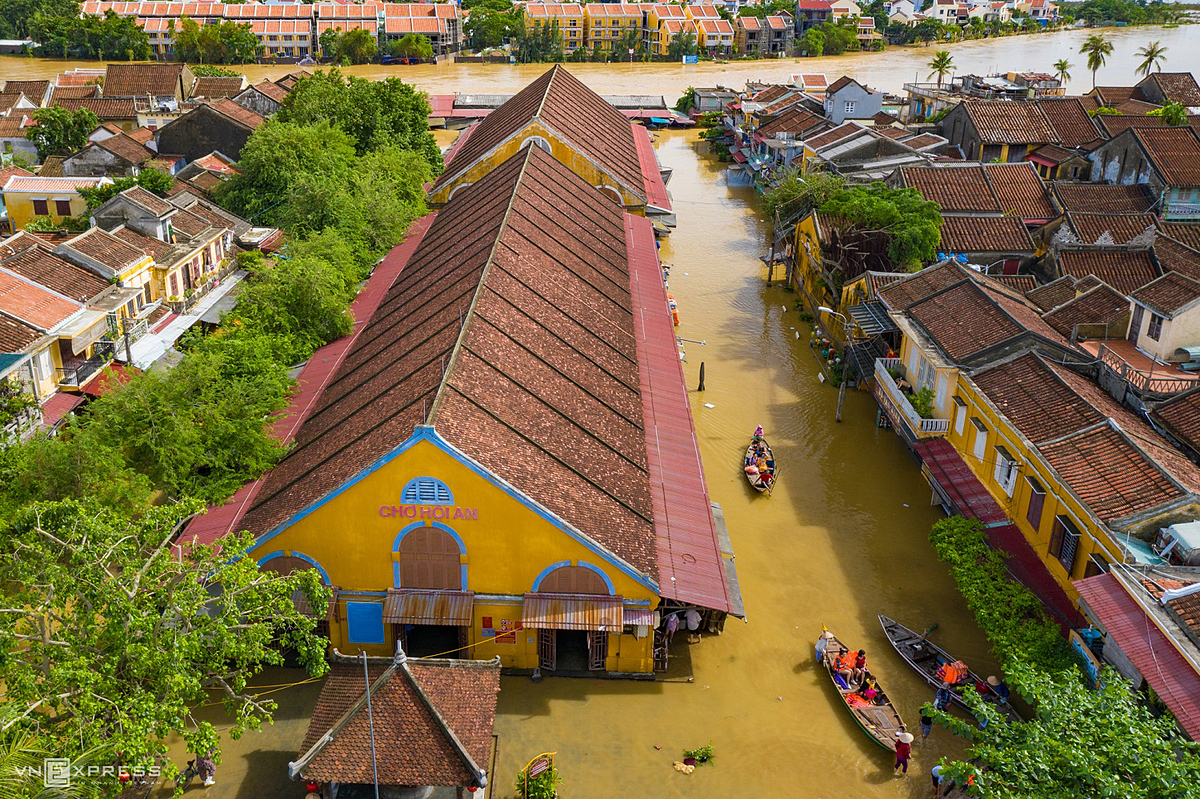 Boats are moored near Hoi An Market at the intersection of Tran Phu and Tran Quy Cap streets on October 12.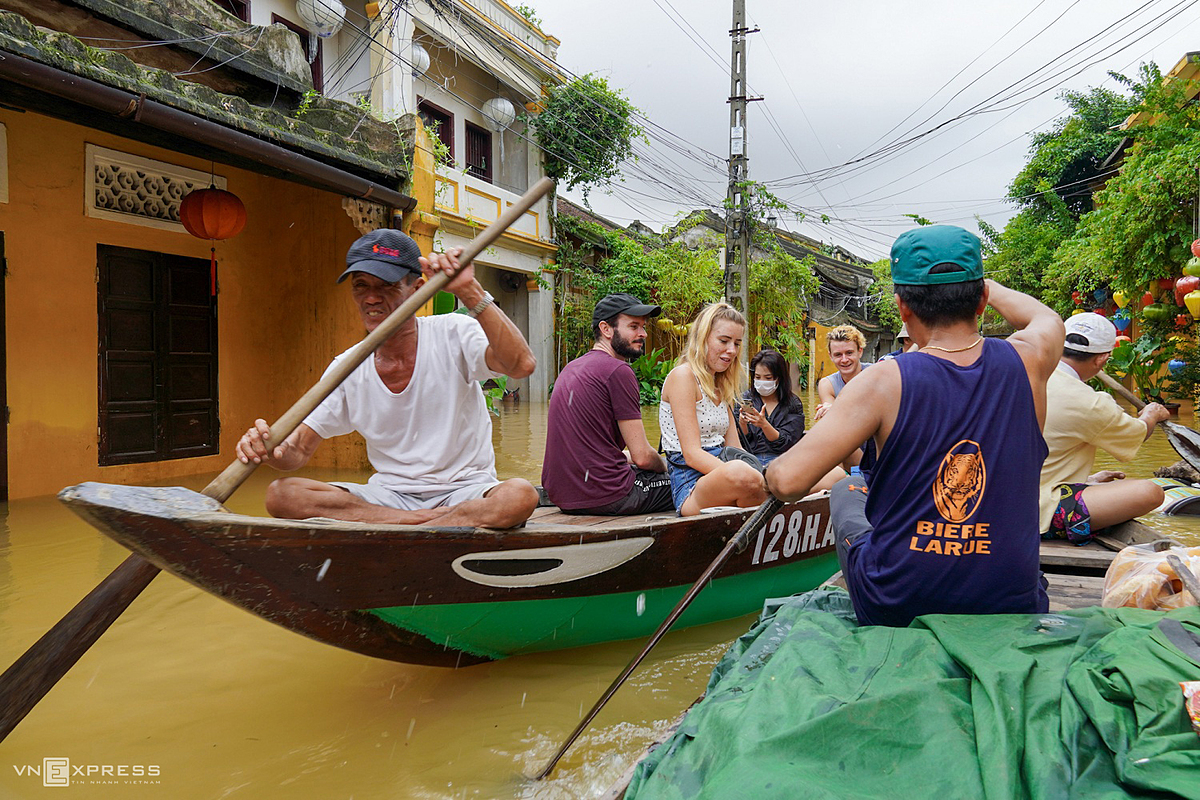 A group of foreigners experience flooded Hoi An Town by boat.Nearly every household in Hoi An's low-lying districts, including Cam Kim and An Hoi, has a boat stored on the roof in preparation for the annual flood season.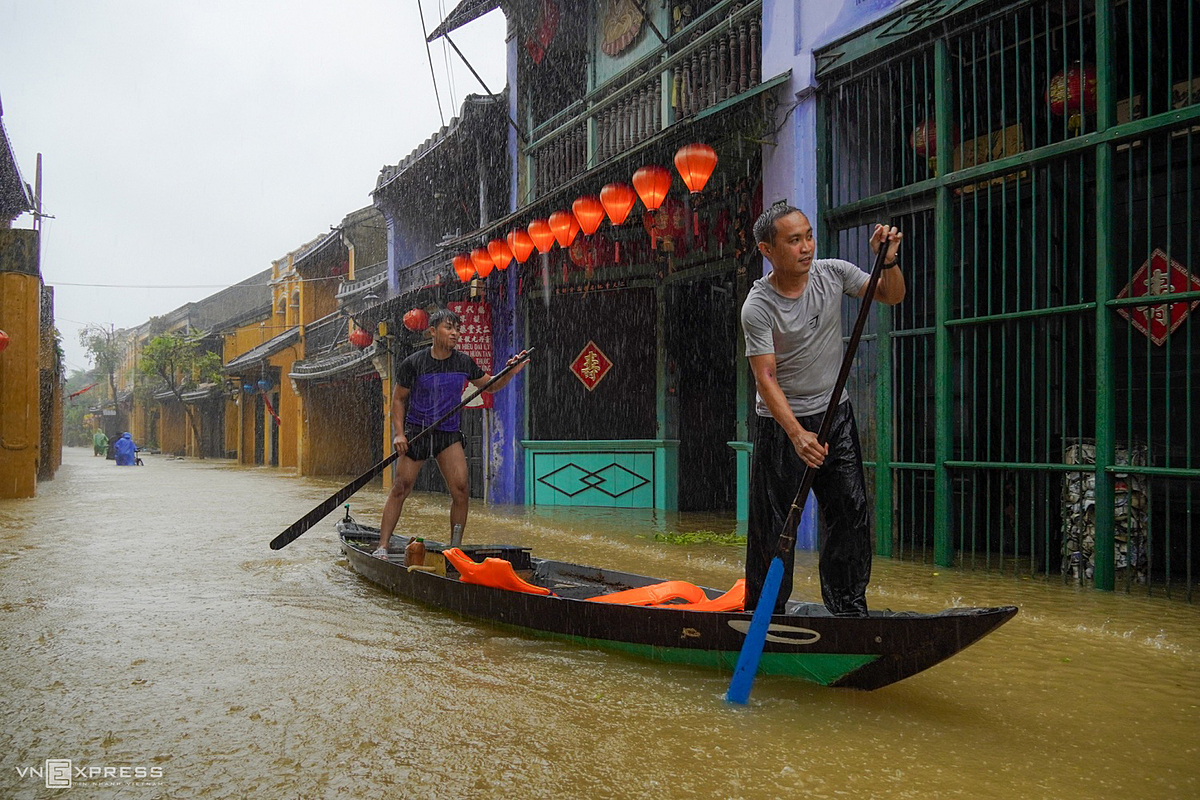 All tourist activities in Hoi An have been suspended since early October following heavy rains and severe flooding.Tourism in the town had only resumed in early September following a pause due to the second Covid-19 outbreak wave that hit the country in late July.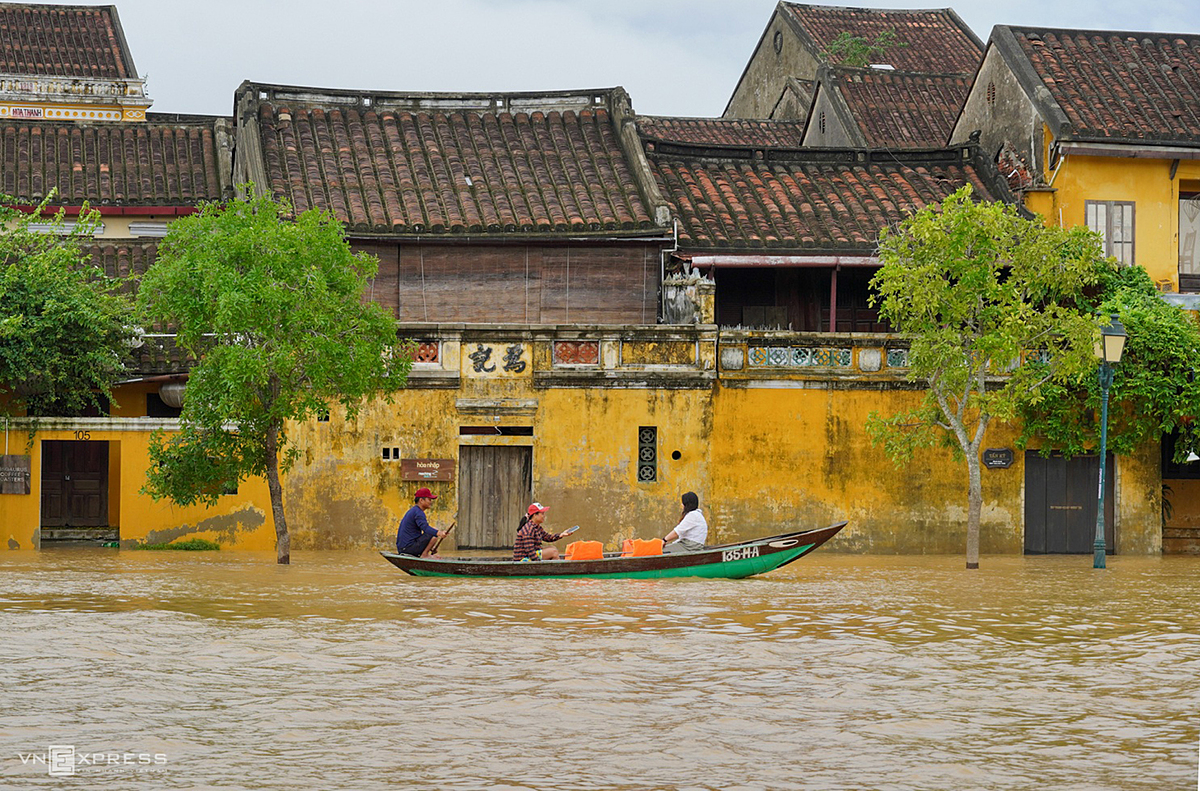 Charging about VND100,000 ($4.3) per person, locals often ferry tourists along Bach Dang, Hoang Van Thu, Nguyen Thai Hoc, Tran Phu, Phan Chau Trinh streets or across the Hoai River to Nguyen Phuc Chu and Nguyen Phuc Nguyen streets.Boat rides have grown in popularity in the annual flood season, which occurs between late October and January.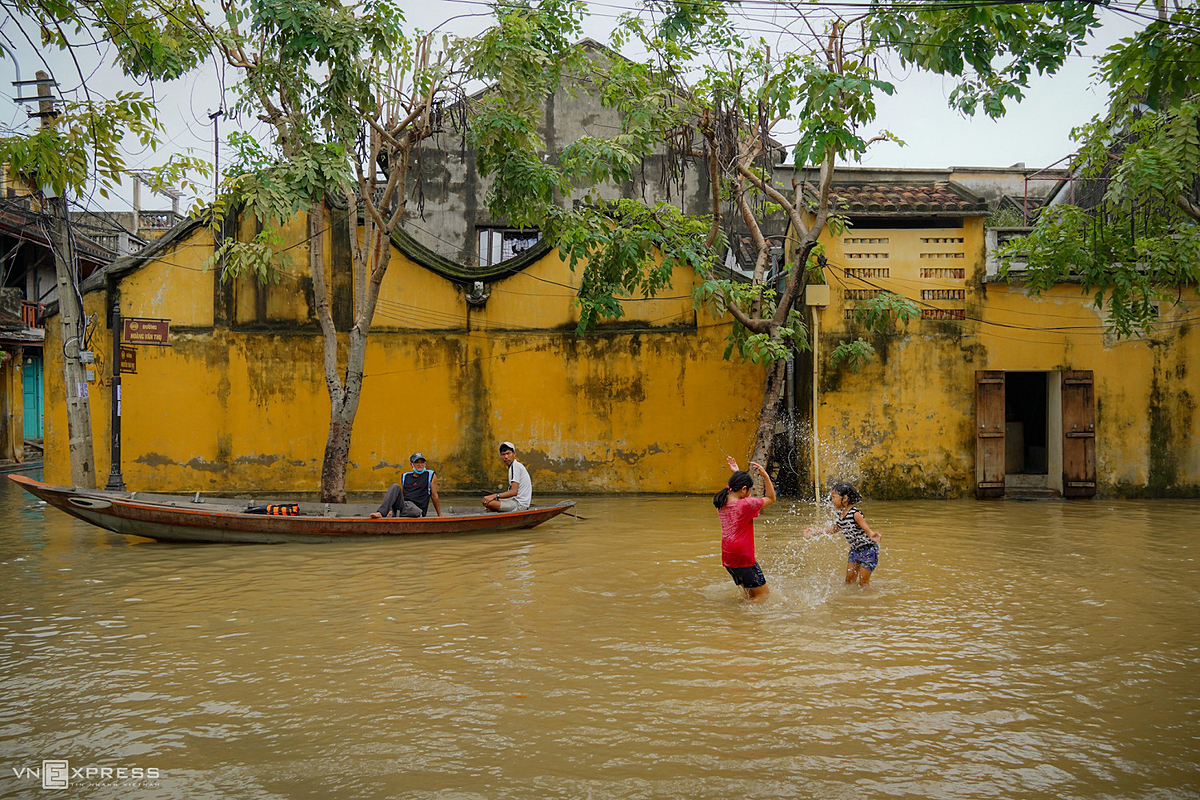 Local children have a splash on flooded Hoang Van Thu Street after floodwaters rose again on October 17.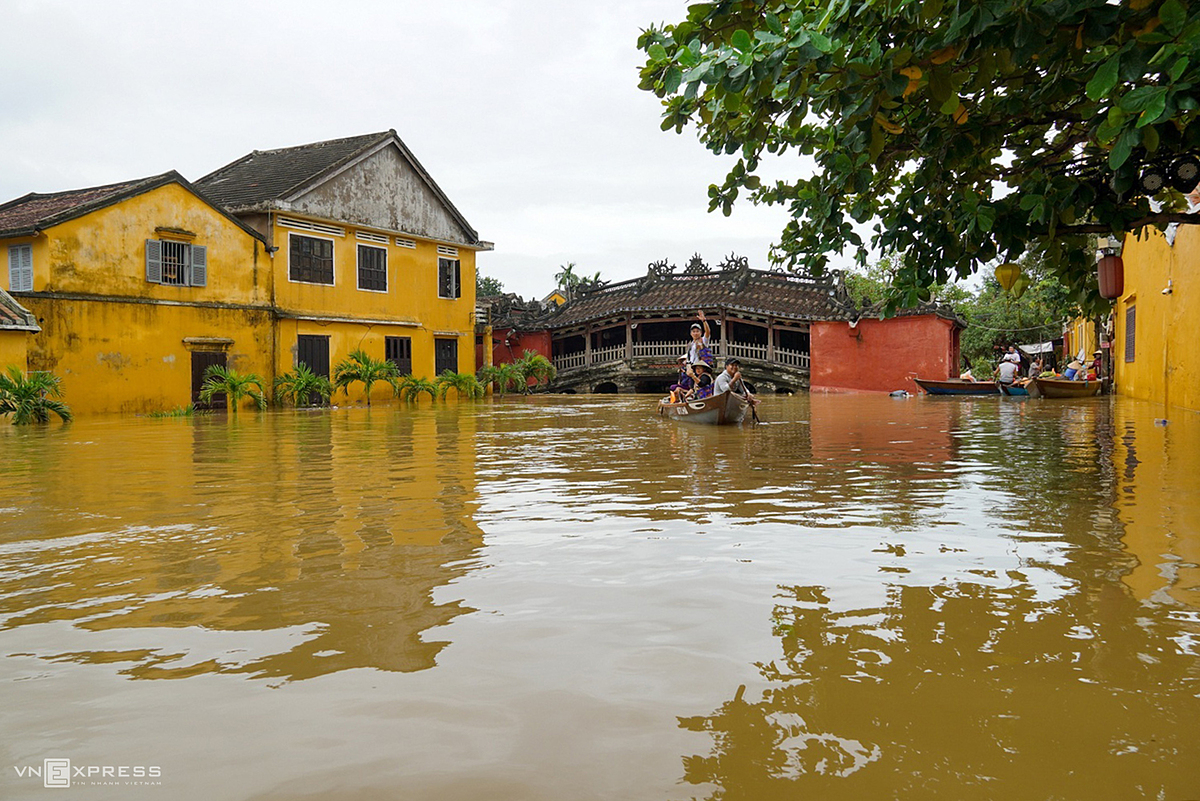 Bach Dang Street near Pagoda Bridge, a symbol of Hoi An, was submerged under 0.5 meters of water on October 11.For the last two weeks, central Vietnam has been struck by severe floods and landslides triggered by heavy, long-lasting rains. At least 114 people had died in the region by the end of Wednesday, according to the Central Steering Committee for Natural Disaster Prevention and Control.In Hoi An, floodwater started to rise between October 8-12 and then receded slowly but rose again on October 17-18.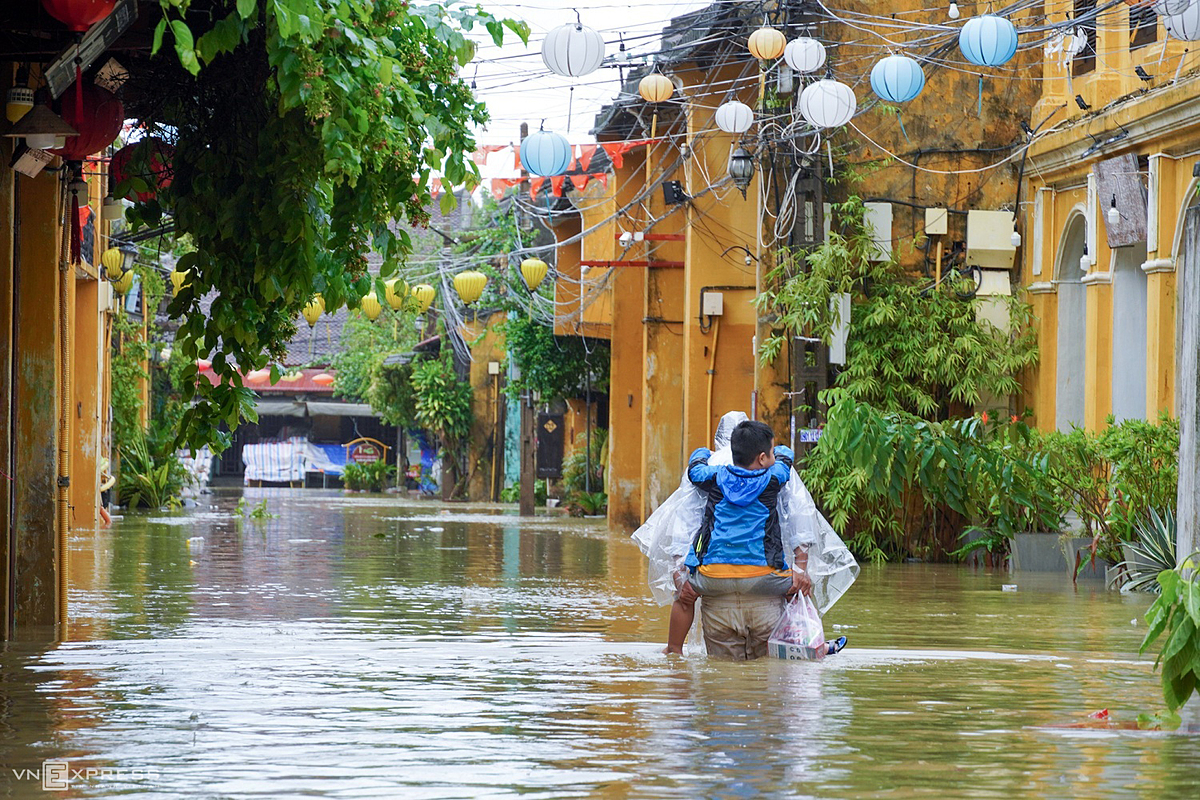 A father carries his son along flooded Nguyen Thai Hoc Street.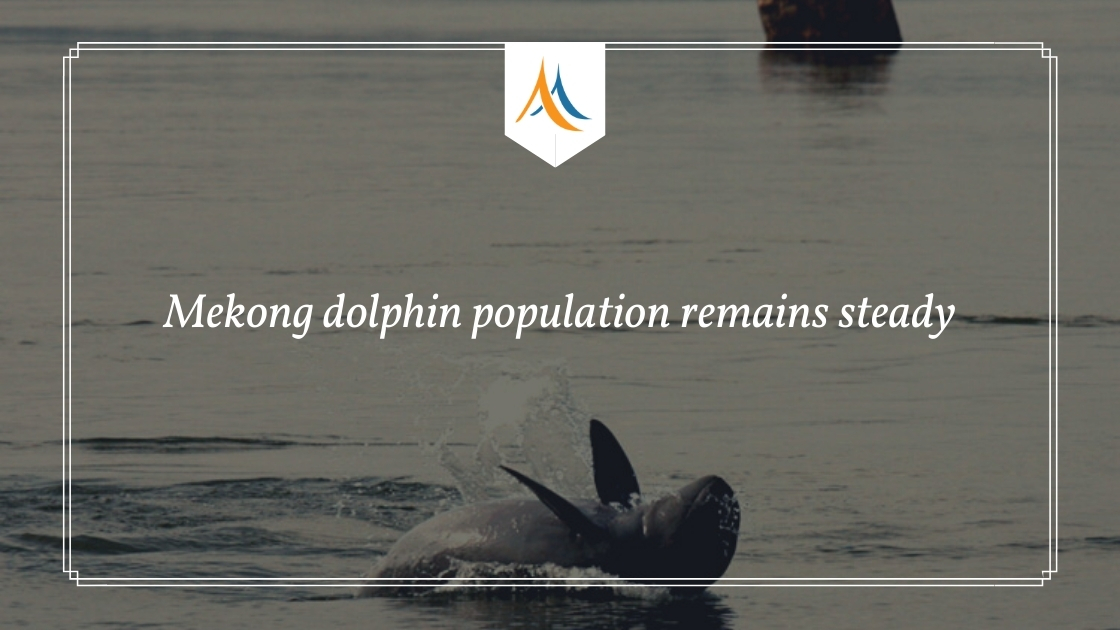 The Fisheries Administration and World Wildlife Fund (WWF) yesterday announced that an estimated 89 Irrawaddy dolphins live in the rivers of Cambodia, according to an official population survey.
The survey  is from the 2020 report "The population of Mekong Irrawaddy dolphin in 2020 based on the Mark-Resight Models" which was released at the Fisheries Administration office.
Seng Teak, country director of WWF, said that Mekong river dolphin is considered an important part of Cambodia's natural resource heritage and an important source of income for the communities involved in ecotourism.
He said that their research of Irrawaddy dolphins in Southeast Asia is only in Indonesia, Myanmar, Cambodia and some parts of Laos.
"Where the dolphins are present indicates that the ecosystem and health of the river in that area is excellent, rich in all kinds of fish, as well as a good habitat for many other river animals," Teak said.
Phai Somany, senior officer of the Cambodian Mekong Dolphin Conservation Project explained that the experts estimated that the number of Mekong Irrawaddy dolphins has remained the same.
He said: "The number is similar if compared to estimates from 2017, which was at between 78 to 102 dolphins. So, the experts estimated the official figure at 89 dolphins present in Cambodia in 2020."
In 2017, the International Union for Conservation of Nature changed the Irrawaddy dolphin's status from "vulnerable" to "endangered", citing human activities as the main reason behind the decline.
Lim Song, deputy director of the Fisheries Administration, said that the results achieved in 2020 are a positive sign for the rehabilitation of Mekong dolphins as they face many threats.
"Mekong Irrawaddy dolphins still face threats such as fishing nets in protected areas, illegal use of electric tools for fishing, poisonous bait, overfishing, and upstream dams," he said.