Vietnam Essential guide: Visa Policy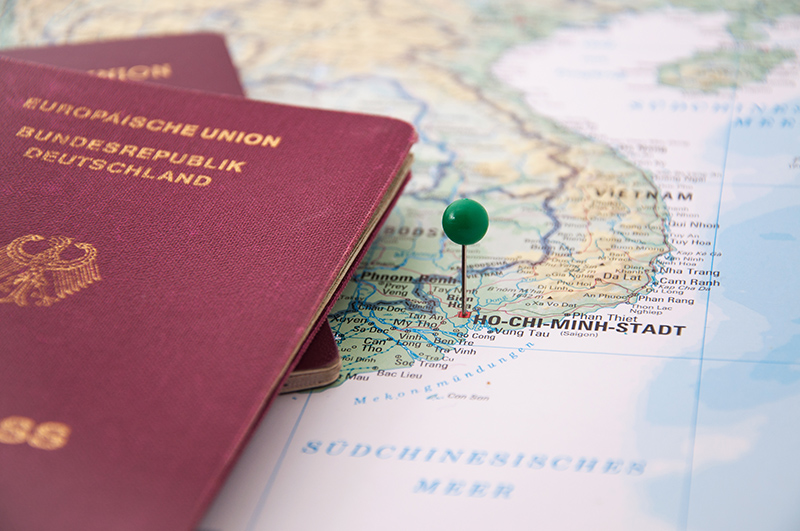 Visa is a conditional authorization granted by one of the Vietnamese diplomatic missions to a foreigner. Visitors to Vietnam need to obtain a visa upon arrival unless they are from one of the visa exempt countries. Minimum validity of tourism visa is 01 month and you are permitted to enter Vietnam anytime during visa validity. If you arrive in Vietnam without an appropriate visa or pre-approval for a visa on arrival, you will be denied entry.
Below is all the essential information on visas for Vietnam.
TYPES OF VISA
Visa at Embassy/ Visa on arrival
Travelers can obtain a visa directly from an embassy or consulate of Vietnam prior to arrival. Besides, some businesses and travel agencies have been authorized by the Government of Vietnam to arrange for pre-approval for Vietnam visa at the airport.
e-Visa
Vietnam's e-Visa is now available to nationals of 80 countries ( February 2019) 
Andorra Argentina Armenia Australia Austria Azerbaijan Belarus Belgium Brazil Brunei Bulgaria Canada Colombia Croatia Cuba Cyprus Chile Denmark Estonia Fiji Finland France Georgia Germany Greece Hungary Iceland  India Ireland Italy Japan Kazakhstan Latvia Liechtenstein Lithuania Luxembourg Macedonia Malta Mexico Micronesia Moldova Monaco Montenegro Mongolia Myanmar Nauru Netherlands New Zealand Norway Palau Panama Peru Poland Portugal Philippines Qatar Romania Russia Solomon Islands San Marino Serbia Slovakia Slovenia South Korea Spain Sweden Switzerland Timor Leste Uruguay Vanuatu Venezuela Western Samoa Bosnia and Herzegovina Papua New Guinea Czech Republic Marshall Islands United Arab Emirates United Kingdom United States of America China (including Hong Kong and Macau)
The E-visa is valid for a maximum of 30 days for the purpose of tourism and is a single-entry visa. The e-Visa costs 25 USD for card payments. e-Visas will only be accepted at international airports in Vietnam
VISA EXEMPTION
Vietnam offers visa exemptions to citizens of following 24 countries holding valid ordinary passports:
Less than 90 days: Chile
Less than 30 days: Thailand, Malaysia, Singapore, Indonesia, Cambodia, Lao, Kyrgyzstan
Less than 21 days:  Philippines
Less than 14 days: Myanmar, Brunei
Less than 15 days: South Korea, Japan, Russia, Sweden, Denmark, Finland, Norway, United Kingdom, Germany, Spain, Italy, Belarus.
Besides, all travelers who directly visit Phu Quoc Island from a third country will be exempted from Vietnam visa requirements for up to 30 days
HOW TO OBTAIN A VISA
To apply for a visa through a Vietnamese Embassy or Consulate office, you'll need:
Application form:  fill it out on (https://visa.mofa.gov.vn/_layouts/registration/ApplicationForm.aspx)
Original passport: Must be valid for at least 6 months from the intended date of entry
01 passport-sized photo with with a white background and no glass wears. 
Visa fees: depends on your country and type of visa you are applying for.
Mail Service: Prepaid self-addressed return envelope is required if you want to have the passport returned by post 
Notes: The form and the fee can vary by country, so please check directly the Vietnamese embassy or consulate to which you are applying
To apply for an e-visa, you'll need:
Fulfill required information (https://evisa.xuatnhapcanh.gov.vn/en_US/web/guest/khai-thi-thuc-dien-tu/...) , you'll need to prepare:
A passport with six (6) months' validity
A photo in .jpg format of your full passport data page
A passport photo in .jpg format (4x6, white background, without glasses)
A valid international credit or debit card for payment
An email address for support purposes
Pay E-visa fee (25 USD). You can make payment with your Credit/ Debit Card via OnePay/PayPal.
Receive your registration code and save the number 3-5 working days via email, meanwhile you can search for your e-visa at https://evisa.xuatnhapcanh.gov.vn/tra-cuu-thi-thuc
Download the .pdf file and print your e-Visa in two copies for safety.
EXTENSION AND RENEWAL
Steps to apply for a visa extension are as follows:
Scan your passport and the page containing your current Vietnam visa to local agencies/ tourist companies authorized by Immigration departure.
The local agency will send travelers' information to Vietnam Immigration Departure to check - Working hours: Monday-Friday (Morning: 7am - 11h30am; Afternoon: 1h30pm - 5pm) and Saturday (Morning time only)
The local agency will inform you the required documents and service fee for visa extension.
Wait for 5-10 working days for the result.You will get an extension stamp on your passport indicating your new stay period
Note: 
Your passport must be valid for more than 6 months from the time of extension.
Your passport must have at least 2 blank pages.
You can extend your visa for single entry only (maximum of 3 months), you can renew your visa for both multiple/single entry.
You can extend your ongoing visa for a maximum of 02 times.
Your Vietnam visa must be proceeded some days before your visa expired date.
COMMON QUESTIONS
Can travel agencies apply for e-visa for customers?
Yes, they can.
I made a mistake in my e-visa application form, what can I do?
Check out the official e-Visa support website to report your mistake in detail: 
https://evisa.xuatnhapcanh.gov.vn/web/guest/lien-he
I'm not near any of the three main Immigration offices, how can I extend my visa?
Travelers can not directly apply for visa extension at Vietnam Immigration offices, so you can contact a local agency in each province to support extending your visa.
My visa is expired, what should I do?
Please immediately contact the nearest travel agency or Immigration Office (in working hours), we recommend travelers carefully checking out visa validity to avoid this situation.
Are visa services available during holidays?
Most of travel agencies work on holidays, so you can contact them for assistance, but Immigration Departure only works on working days, so some of the procedures can not be completed during national holidays.