Inside Hue Citadel: Life Of The Last Emperor Of Vietnam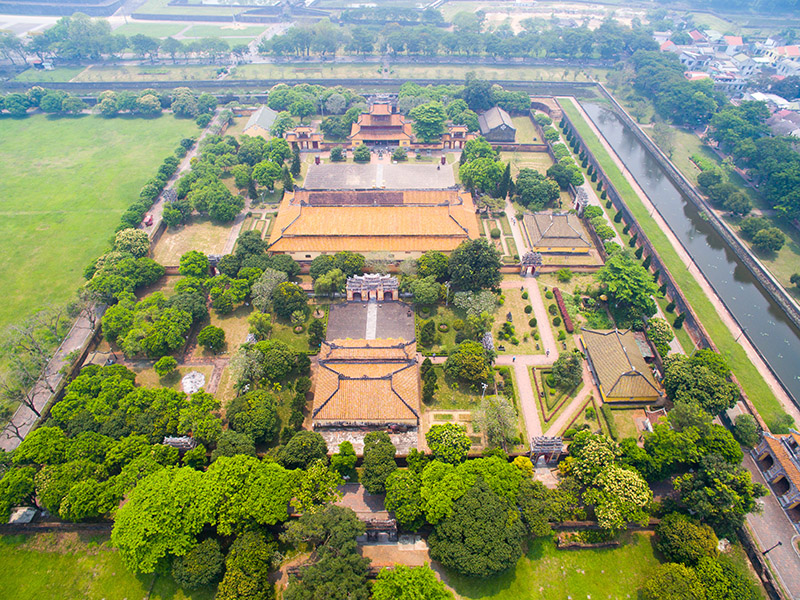 Vietnam had been through 4000 years of feudalism period. Until now, there are still many traces of that glorious period, including the ancient palace - imperial city of Hue, where lots of mysterious historical stories still remains pretty clear and are sure to fascinate every visitor.
Following each step through ancient palace of Hue, we'll explore the life of the very last emperor of Vietnam. There going to be many mysteries to be revealed!
Bao Dai - Last emperor of Vietnam
Bao Dai is the last king of Vietnam, his life is full of secrets that it's like a work of fiction, a king who is well-known for a beautiful love story, but notorious for being a womanizer; a king who proposed progressive policies, but turned his back to the country during most difficult and turbulent period.  So in the end what kind of person is he?
From 1802 to 1945, Vietnam was ruled by the Nguyen Dynasty, which had its capital in the city of Hue. Emperor Bao Dai inherited the throne at the age of 13 in 1926, this king is more famous for his extravagant lifestyle. He spent most time and money in nightclubs and luxury hobbies such as shopping, hunting, tennis. He even built a palace on a hill in Dalat just for entertainment.
Bao Dai married Marie-Thérèse Nguyen Huu Thi Lan in a lavish ceremony held at the Imperial Palace in Hue in 1934 and had 5 children. 
While Vietnam was being torn apart in the Indochina war, he became a puppet emperor which is controlled by France and Japan's authorities. In 1945 , when Vietnamese people's resistance against the intruders reached its peak, Bao Dai had no other choice but abdicated his throne in a formal ceremony at the Imperial Palace in Hue.
After being invited to become a special adviser for Ho Chi Minh. He left Vietnam and spent the rest of his life in Hong Kong, never returned to his homeland again, he died lonely and without ceremony in a military hospital in Paris, aged 83.
So far the truth about him is still controversial, some people think that he is a weak king who was ready to betray his own country, some believe he was a reformer, patriot, and democrat, just not lucky enough. The ancient capital Hue city is exactly where you can find out the answer.
Discover the life of the last emperor inside ancient palace of Hue
This place is the witness of the ups and downs ages of 13 Nguyen Emperors. Walking deep inside the ancient citadel of Hue city, the special feudal relics of immense architectural and cultural values will tell visitors stories of the old time about a dynasty which once reached the peak of prosperity, and then completely collapsed.
Although Bao Dai was the king of a country in the extremely chaotic period, he still had a very luxurious lifestyle, which is clearly reflected in the scale and architecture of the magnificent castles.It is a huge complex covering an area of 520ha and comprising three circles of ramparts: Hue Capital Citadel, Royal Citadel and Forbidden Purple Citadel. 
Hue Capital Citadel : established for defensive purposes, it was built in square shape, surrounded the Royal Citadel to protect the aristocrat and the royal family.
Royal Citadel: The main part of the ancient capital- in which the royal family spent most of their life living, studying, entertaining and reigning. At this place various grand ceremonies had took places, such as the celebrate emperor's birthday, worship the previous kings... there are storehouse for precious objects from all over the country.
Forbidden Purple Citadel: the most important part of the palace system, it was only reserved for the kings and queen, the massive palaces with enchanting architecture is like a picture of the golden era of the Nguyen Dynasty.
The system of palaces combines sophisticatedly both Eastern and Western architectural styles. Although much of the Hue Citadel and its Forbidden Purple Citadel was ruined during Vietnam's wars, parts have been faithfully restored, including the impressive Noon Gate (Ngo Mon) and Thai Hoa Palace. 
Although the palaces were severely damaged during the dark period of Vietnam War, it's so amazing that the remnants of a glorious empire still exists to remind the local people of their noble origin.