Foodie Guide By Region: What To Eat In Vietnam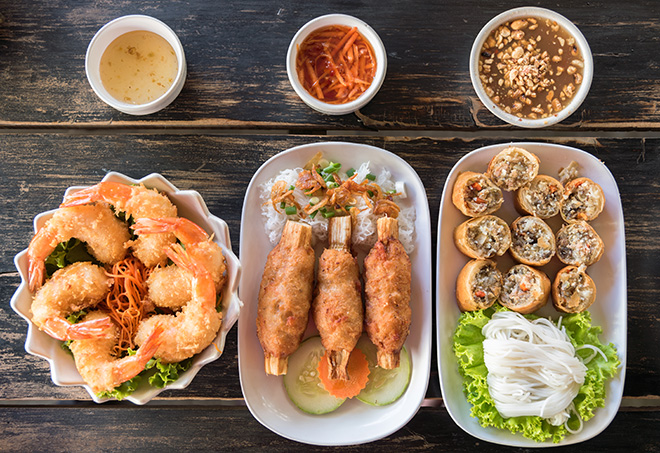 Vietnam is a country with extremely diverse and unique culinary, because Vietnam has 63 provinces and cities and each has its own specialties. A quick look at the map of Vietnamese cuisine will give tourists a better view of food in Vietnam.
Northern Vietnam: Simple but delicate
All the flavors in Northern Vietnam are moderate and balanced, not too spicy, sweet or fatty. When they prepare the meals, the balance of yin and yang is really important for a healthy meal. For example: snails are cold, so they are usually served with ginger and chilli dipping sauce which warm up the eaters' bodies, so tat they can avoid stomach ache. Dipping sauce is nearly indispensable in every meal, the sauce are mainly made from fish sauce added lime juice and sugar. 
Hanoi is considered the center of culinary culture in Northern Vietnam since it has been the capital of the country for many dynasties. Hanoi's food is always a tourist attraction.
Pho  (rice noodle with beef) in Hanoi
This is the most iconic dish of Vietnam's capital. Although the recipe is so complicated with many ingredients, a bowl of rice noodles with beef looks really simple : white noodles, brown beef, green spring onion and clear broth, but the taste is so attractive that most foreigners can not forget it when they left Hanoi.
Goat meat in Ninh Binh
The goats in Ninh Binh are raised on rocky mountain so the meat is firmer and more delicious than goats in other regions. Goat meat can be prepared in many ways, such as: rare goat meat with lime juice, grilled goat meat, goat meat hotpot,… Rare goat meat is a nice choice for customers who want to feel the freshest taste of goat meat.
Banh da cua (dried red rice noodle with seafood) in Hai Phong
Unlike other kinds of noodles, red rice noodles in Hai Phong has an eye-catching unique brown color. A bowl of banh da cua includes fish ball, meat rolls in lolot leaves,  shrimp, mantis shrimp and vegetables. It's very good to taste on coldish days.
Cha muc (Squid ball) in Ha Long
This is one of the most popular specialties of Quang Ninh. After being removed all the bowel and vesicle, the fresh squid is ground in stone mortar by bare hands, then mixed with meat and other ingredients. When finish the squid ball is crispy but not too crunchy, and the fresh taste of squid still remains. 
Mungbean cake in Hai Duong
If you have a sweet tooth, this cake is a great choice to try when you visit Hai Duong- a small province near Hanoi. It quickly dissolves in your mouth and you can feel the aroma of mung beans clearly. Since mung bean cake may be too sweet for some people, try it with hot tea, that's a perfect combination.
Com's dishes (Green young rice's dishes) in Hanoi
Green young rice is a well-known food in Hanoi, and it can be made into various kind of food, especially dessert: stir-fried with refined sugar (cốm xào), green young rice cake (bánh cốm), green young rice sweet soup (chè cốm), green young rice ice cream (kem cốm).... It's so difficult to tell which one is the most delicious.
Central Vietnam
The flavors are strong, people in Central Vietnam likes salty, sour and spicy dishes, so chillies and peppers are used in most recipes.  The color of the dishes are bright and strong, too, such as red, orange and brown. The cuisine is also much more complicated than Northern Vietnam. Because Central Vietnam has long coastline, so seafood plays an important role in their culinary, they usually make salty sauce from seafood (mắm), for example : fish sauce (Nước mắm), shrimp sauce (mắm tép), small shrimp sauce (mắm ruốc)… 
As Hue city is the capital of the last feudal dynasty - Nguyen, the royal lifestyle still remains until now. The women in Hue often pays special attention to the meal: plenty dishes, elaborate cooking method, eye-catching decorated.
Cao lau ( Hoi An's noodles) in Hoi An
Hoi An isn't only famous for marvelous ancient street, it's also attract travelers with charming , cuisine, especially Cao lau. It takes many steps to make the noodles and complete this dish- it's sour but sweet, soft but crunchy, greasy but light. How can it be?
Banh canh ca loc ( snakehead noodles) in Quang Tri
This kind of noodles is so different than others, it's big and chewy. It's popular in many provinces of Central Vietnam, but when it's cooked with flavorful stir-fried snakehead, it's become so special and attractive.  
Rice vermicelli with beef in Hue 
Unlike rice noodles with beef in Hanoi, a bowl of bun bo Hue is like a colorful dish that used to be served  in royal palace: it contains beef, crab ball, a piece of pork leg, boiled pig blood, herbs. The broth takes hours to make from ingredients such as beef, pig bones, lemongrass, spring onions, small shrimp sauce. This dish is really flavorful and also nutrient.
Banh que Tra Bong (Tra Bong cinnamon wrap ) in Quang Ngai
Cinnamon is a precious gift from nature, it has a fragrant aroma, from ancient time, people in Vietnam often used cinnamon as a kind of medicine. Tra Bong cinnamon wraps are simple and not too sweet. and it's also very good for health.
Southern Vietnam
Southern cuisine is influenced by Chinese. Cambodian and Thai cuisines, so most dishes are fatty, sweet, and spicy. This is where Mekong river flows to the ocean, the delta raised by Mekong river is so fertile, but at the same time, downpour, flood, tide are parts of their life… Fresh water fish, shrimp, coconut are regularly seen in the meals. Southerners are not picky about food, the cuisine is usually simple and rustic from what they get in the field : frog, mice, snake, coconut larvae… are unique specialities that can be found only in Southern Vietnam.
Tam rice in Ho Chi Minh city
Rice is the most important part in any Vietnamese family's meal. But Tam rice is special, it's served with grilled pork ribs, pork skin, fried egg meatball and pickles. They are all perfectly seasoned so the whole dish has strong flavors, sweet, salty, sour, spicy - all in one plate.
Mam hotpot in Can Tho
This is a must-try when you come to Southern Vietnam. The broth is made from the best kind of fish sauce in Vietnam. Coconut milk and fish sauce sounds weird but they are actually a great combination. Just like regular hotpot, customer will dip raw ingredients into boiling broth, so everything is hot and fresh.
Banh xeo (Vietnamese crepe) in Binh Dinh
Banh xeo has many variations and it can be found in every corner of Vietnam, even in Northern and Central Vietnam, in both luxury restaurants or street food stalls. But banh xeo in Binh Dinh is something special due to its super-crunchy crust. Although it looks like Mexican taco, it's served with sour and sweet dipping sauce, so it's not so fatty and you will probably want to eat more and more.
Pia cake (Durian cake) in Soc Trang
Many people don't like durian because of its strong smell, but then they surprisingly find themselves really into pia cake. The filling is so soft and smooth, it's sweet but the salty yolk in the middle of the cake's done a good job in balancing the sweet taste.
Coconut gum in Ben Tre
Coconut plays an important role in the life of people in Ben Tre province. They can make coconut oil, coconut milk from the fruit, make hats from the leaves, and even raise bugs inside the tree (coconut larvae). Coconut gum is also a unique production from Ben Tre's coconut.