Bring home the taste of Vietnam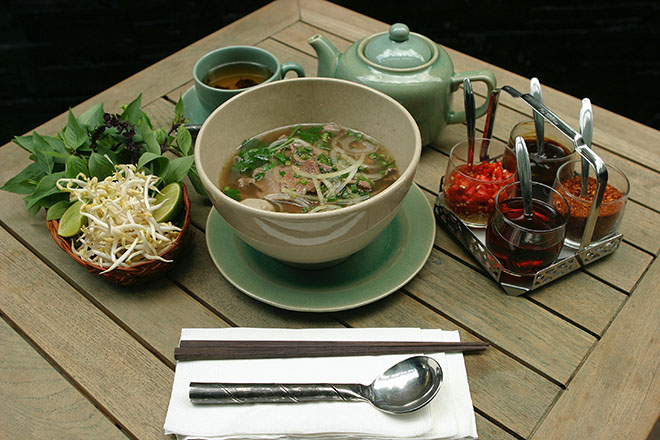 The days of being indoor due to the outbreak of Covid-19 have become terribly boring. Seems like you have tried everything you could. What else to do today? How about taking up TSA's challenge for you: Cooking some Vietnamese dishes, right in your kitchen? Some recipes are complicated to cook, but with a few shortcuts, you'll find it not difficult at all.
Vietnamese food is simple, but still delicate and good for your health. People in Vietnam prefer fresh, light food to greasy food. So in the ordinary meal, it is indispensable for white rice, or rice noodles, and vegetables. In return, the sauce is paid special attention to with many ingredients, that's why the dish is always flavorful and attractive, So that you can easily choose the recipe to cook from anything left in your fridge, today we offers you a variety options of easy-to-find ingredients. Now, get ready for a treat!
Please note: Some Vietnamese ingredients can be found at supermarkets or Asian food groceries.
1. "Pho" (from beef or chicken) 
Beef pho (beef noodle soup) is a light and delicate dish. Simple as it may seem,  it requires hours and a lot of ingredients for an authentic Pho in Hanoi (such as onion, ginger, star anise, cinnamon, coriander,...)especially for broth. But with a few shortcuts, you can cook delicious bowls of Pho for your family in under an hour.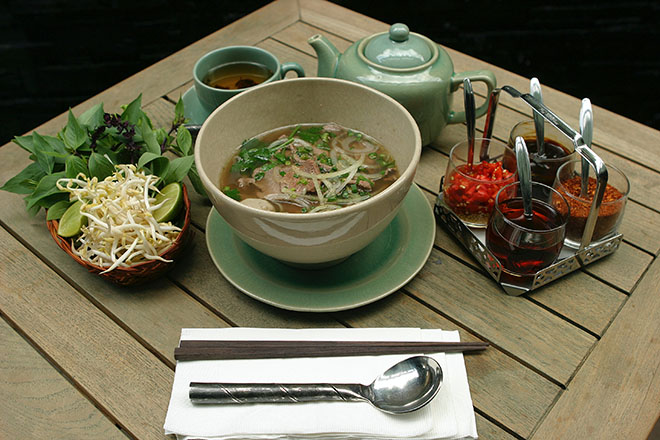 The broth should be clear and flavorful, the beef is tender with a glowing pink hue. Just add a bit lime juice and chili and your bowl of Pho is perfect.
To cook chicken pho, chicken in the broth for 15 minutes, remove the bones, then use them to simmer the broth. Slice the chicken and serve with pho.
2. "Spring rolls" (from pork and prawn):
If you are fed up with greasy fried or stewed dishes, the spring rolls will be a great change, it's a light, cool appetizer to help balance your taste. Plus, this dish is so simple to make that even kids can join with you.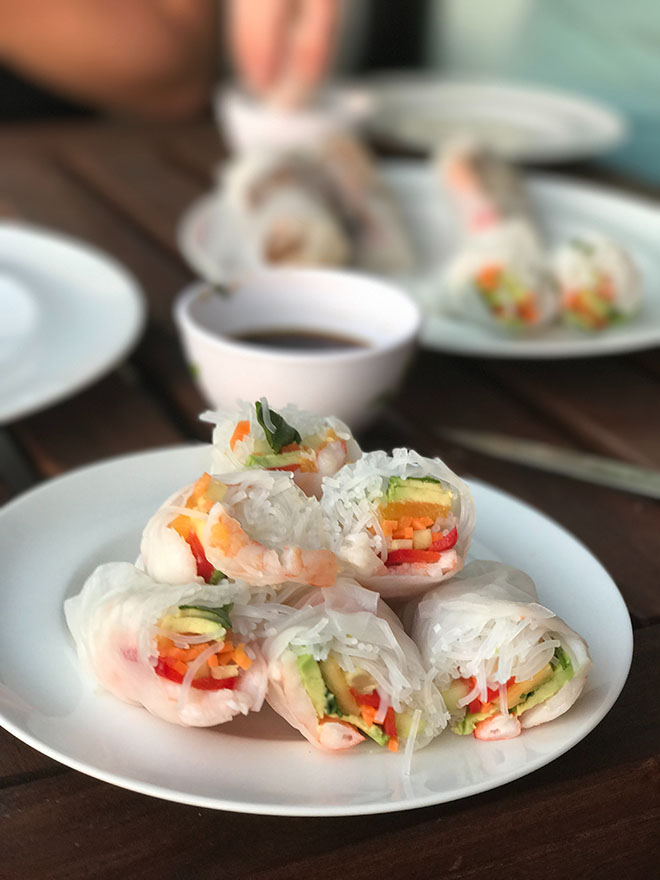 Special thing about spring rolls is you can freely make the fillings with your favourite ingredients, some people like to use pork instead of shrimp, some people likes to add fruit such as pineapple, starfruit for sour flavor, some people add cucumber, cabbage, bell pepper… Show us your creativity!
 How to make Vietnamese spring rolls
 
3. "Braised and caramelized fish (from catfish)
This is a dish that helped the amazing Vietnamese chef - Christine Ha impress the three choosy judges of Masterchef season 3. Although the recipe isn't so complicated, this is quite a difficult dish because even Vietnamese people can hardly cook it perfectly.
Catfish should be butter-like soft, not too dry, not too watery and served with steamed white rice.
How to cook Vietnamese catfish
4. Vegetarian fried spring rolls (For vegans)
A wonderful choice for a vegeterian with crispy skin and juicy fillings. This dish is completely made from vegetarian ingredients such as tofu, mushroom, sweet potatoes, carrots, … and no milk or butter.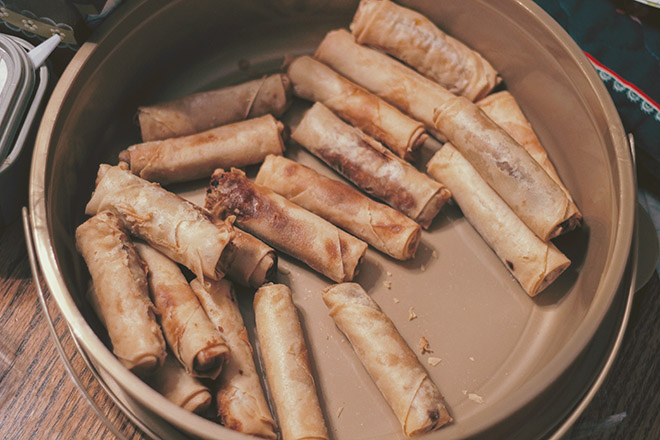 Some troubles may happen when you're cooking this dish, for example : the wrappers are torn, the spring rolls stick together after being fried,... so remember not to let the fillings get too moist, or let them rest for too long.
Just like fresh spring rolls, you can choose your favourite ingredients for the fillings.
How to cook vegeterian fried spring rolls 
5. Sweet soup
Sweet soup is a great choice to handle the leftovers in your fridge for dessert. It can be made from beans (green beans, black beans, red beans... ), cereals (rice, corn, sweet potatoes,… ), fruits (longan, bananas…), seeds (lotus seeds, chia seeds), even from grapefruit peel.
Typically, the ingredients are cooked with brown sugar, add enough water to make thick or thin sweet soup depending on your preference. However, some of them requires special cooking method.
6. Vietnamese coffee 
As Vietnam is the world's second largest coffee exporter. You can buy Vietnamese coffee in the form of whole coffee beans or packaged instant coffee. But Vietnamese people have many ways to enjoy coffee, like coffee with condensed milk, egg coffee, coconut milk coffee, coconut milk coffee ice-blend, coffee yogurt… If you're a fan of coffee, why don't try a new recipe today?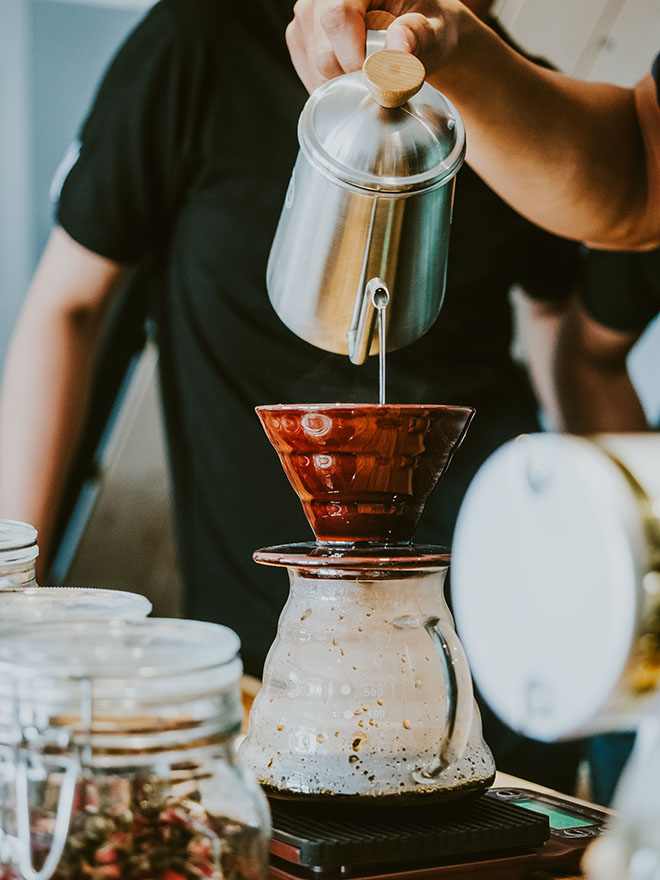 Bringing home the flavors from a country far away, changing a little bit of your daily meals is a great way to overcome these difficult day.  We are just like you-are passionate about travel, but for your own and everyone's safety, let's stay at home with Authentic Asia and make every day a new opportunity to discover yourself. Authentic Asia hopes nothing but a healthy and happy life for you. We're always here to welcome you back!