Unravel the secrets in South Cambodia Beaches and Island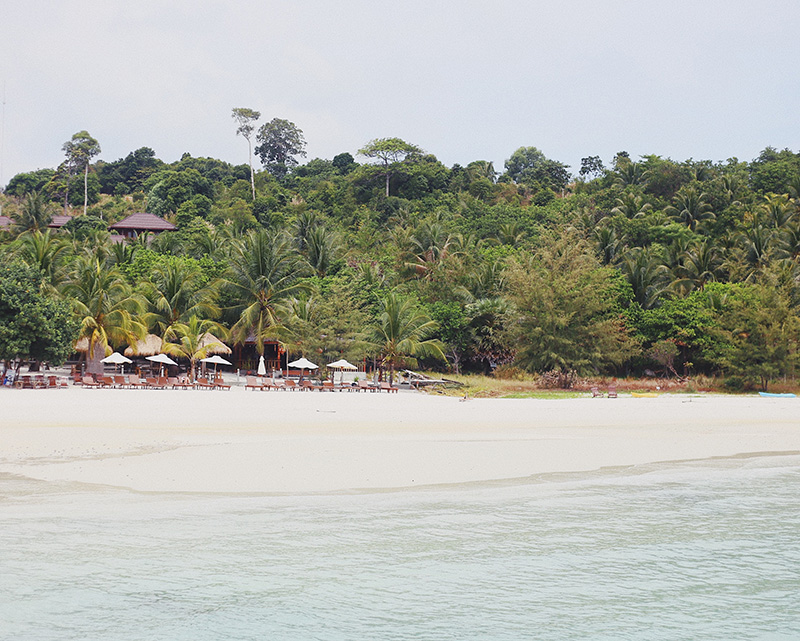 Angkor Wat, the UNESCO prestige or Ta Prohm, the stuff of Indiana Jones fantasies are not the only things that make Cambodia memorable. Apart from the adventurous and mystic sites of Cambodian famous temples are the magnificent view of beaches and islands, each of which possesses a special charm. 
Koh Rong
Upon the name of Koh Rong, many people call it a party island. But in fact, this is only a misconception; Koh Rong is more than that with the clean seawater, the down-to-earth fishing village and many unique experiences.
Koh Rong is the second largest island in Cambodia, located in Sihanoukville Province. Stretching over 43 km heavenly beaches, Koh Rong comprises of more than 23 beaches of various length and coloration.  
Among the 23 delicate beaches, Lonely Beach, lying at the North of Koh Rong Island is nominated as the best beach of 2019 for its captivating cliffs, a soothing white carpet of sand and endless lines of palm trees calling us into the sapphire-like blue ocean. Sitting calmly on the local boat from Koh Rong to Lonely Beach will sure be the medicine for any stressed souls. A trip could take from 2 to 3 hours, enough time to take some pictures or you could take a nap among the cinematic view.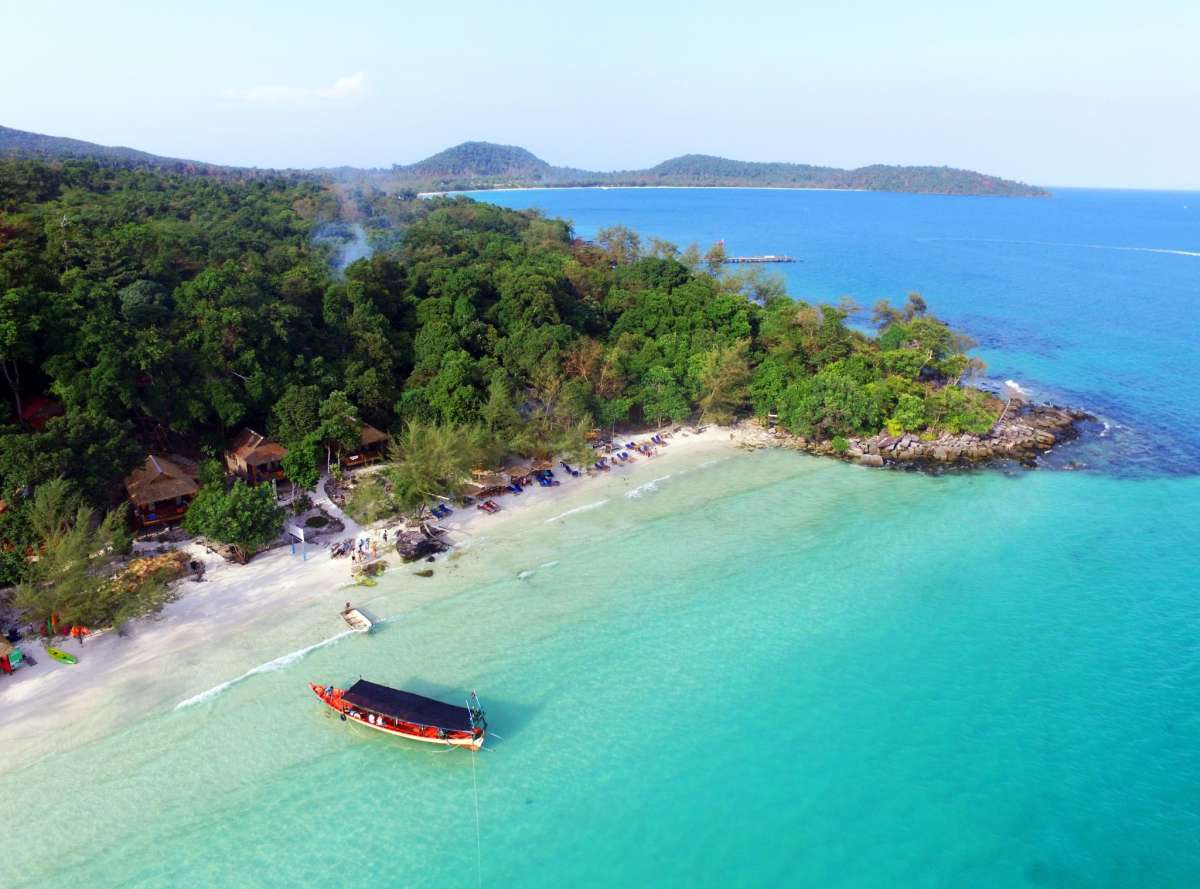 Long Set Beach or 4K Beach stretching over 3 to 4 km is an unpopulated white sandy shoreline and crystal clear waters, just perfect for snorkelling and diving. It's not difficult to find a wonderful hotel or resort as travelling has begun to rise up in the area.
 Besides these two significant ones that I've known and adored, many other beaches are also noticeable from the lovely White Beach to the tranquil Sok San Beach or the favorite of many, Palm Beach. All are waiting for you in Koh Rong this May or November since the 2 mentioned months, with less cloud and lower humidity compared to the others, are the best times to visit. 
Koh Rong Samloem
20 km away from Sihanoukville is Koh Rong's stunning sister island, Koh Rong Samloem. This island is a peaceful relaxing destination with heaven-like scenery giving you the realness of pristine white beaches, almost see-through turquoise ocean waters, and a tropical jungle wilderness..
There are two local villages in this island: in the north is M'Pai Bay and in the south is Phumi Kang Khnong. The south-west of the island also lay a small hamlet, called Phumi Kang Krau, which means 'Village on the outside'. 
The whole vibrant wildlife scene in Koh Rong Samloem is just breathless with dazzling wild birds like the great hornbill, the kingfisher and the osprey or a group of monkeys sometimes spotted during the Jungle Trail walk.
If you'd be in Koh Rong Samloem a few years ago, electricity is nowhere to be found, not to mention Wifi for uploading pictures. Until now, with the gradual change in the travelling industry here, accommodation to drinking and eating has been well updated. Still the tranquility and peace any travellers seek to find is there. You can have as much time as you may for lying lazy among breathtaking powder-white sand or swimming with the little colorful fish in the turquoise water. Off-the-beaten-track is something one can definitely say about Koh Rong Samloem.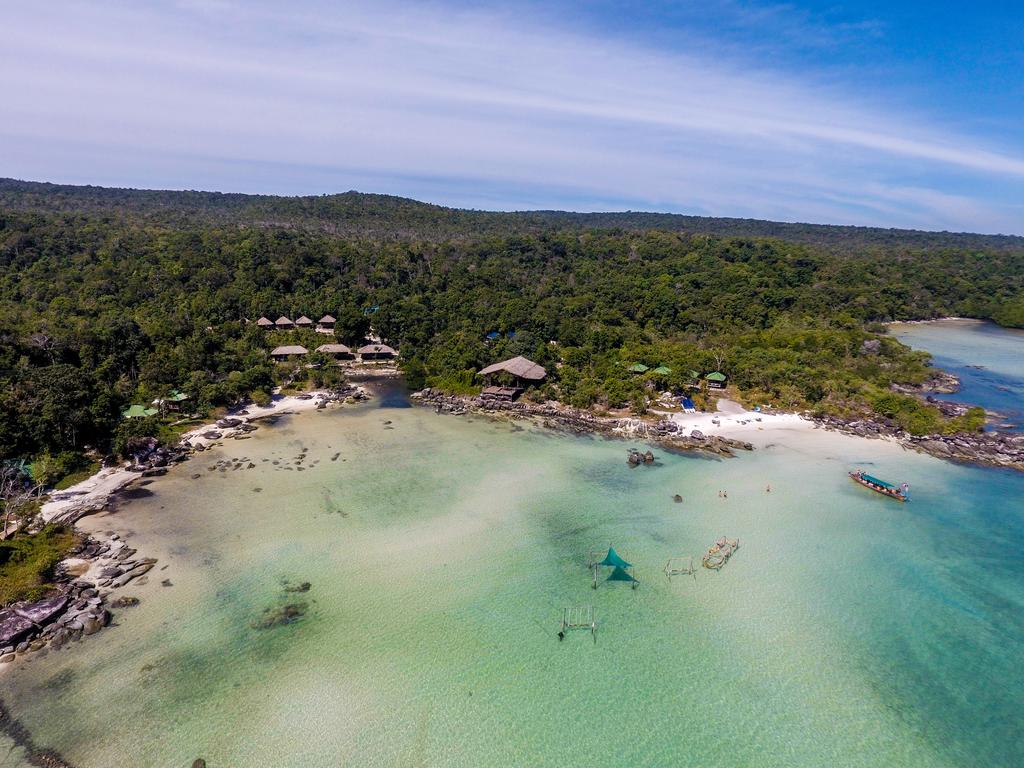 For the full appreciation of this island's majestic natural scene, trekking through the light jungle is must-do activity. Some visitors shared that they were surprised by how the trees and plants to largely undisturbed animals outnumber human inhabitants here.
Found on the West of the island, Lazy Beach is a certified destination as it is listed on number 2 among 21 most beautiful beaches of the world by National Geographic. Living up to its rank, Lazy beach is a long stretch of clean gold-like sand set in a magnificent bay surrounded by tropical jungle. Best way to relax is to stay in a simple yet all-set bungalow along the coast of Lazy Beach. 
If you plan to visit this island, the time from March to May is best suggested. 
Koh Ta Kiev
Closest island to Sihanoukville, Koh Ta Kiev takes you just four kilometres and one hour away from the mainland to travel. The one thing that distinguishes this island from others is how secluded it is from the world. By that, I mean no Wifi or internet access and no electrical line from the mainland. But don't worry, Koh Ta Kiev uses most power from the solar energy. And all of its dream-like findings will capture you right away, off the touch of any smartphones or laptops. 
With just a handful of guesthouses planted along its seem-to-be endless sandy beaches, Koh Ta Kiev is an adventurer's dream, with plenty of amazing places waiting to be explored. Beautiful beaches, secluded coves, rocky cliffs, and mangrove forests are some one can name for this island's numerous beauty.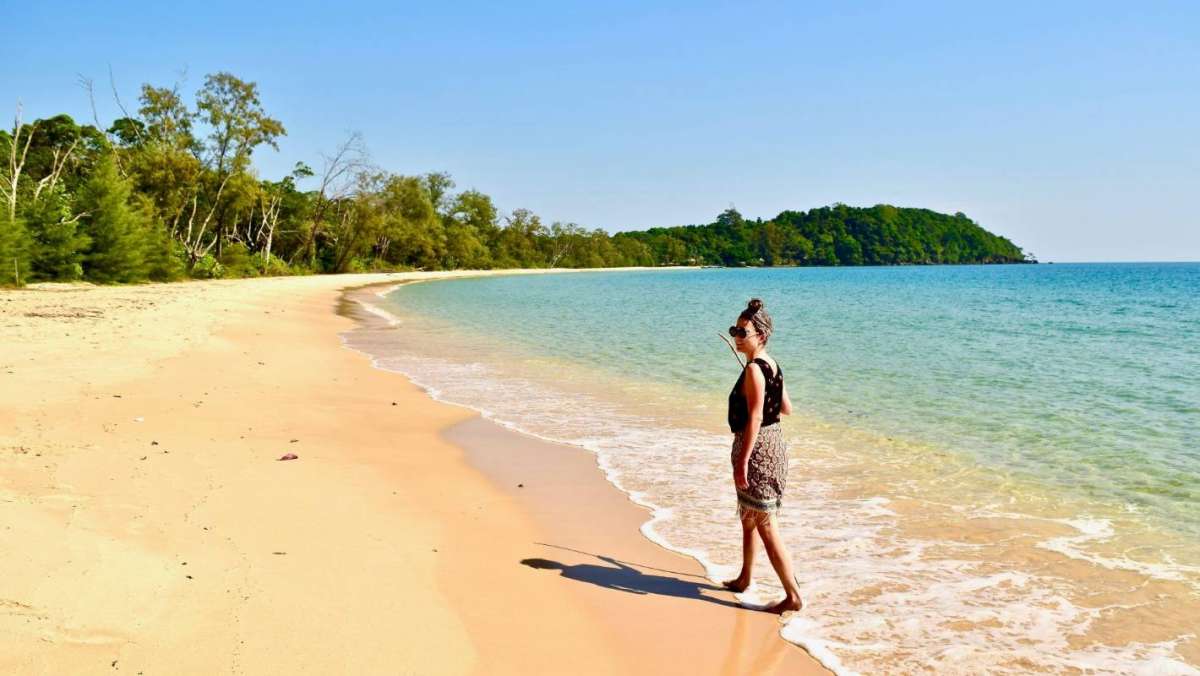 You can find most of the island's accommodation along its southwestern coast, the Long Beach. And for a place of solitude, taking a 45-minute walk through the jungle from Long Beach is Plankton Beach (people also call it Naked Beach or Sandal Beach). The beach is ideal for sunbathing, strolling, snorkeling, and late-night swims. 
For those interested in the daily life, the rich cultural scene of Cambodians, the local fishing community on the island's northeastern shore is home to the local fishing community must come to the top of the travel list. 
 We suggest that our next trip to Koh Ta Kiev falls from January to April or on November and December. Warm temperature (from 29°C to 31°C) and the below average rainfall will make the perfect occasion. 
Koh Thmei
Another off-the-beaten-track destination to be considered is Koh Thmei, lying south-west of Sihanoukville headland. Coming here and slowly walking into the sea water, you'll be mesmerized by its almost transparency. The water is not polluted by any ships or traffic. It's clear like the sky on a sunny day. 
The tourism has not caught up in this place. Most bungalows seen are powered by solar panels. Locals here are not numbered by hundreds but by only several dozens. For that reason, Koh Thmei is mostly unspoilt and the home to over 150 types of birds.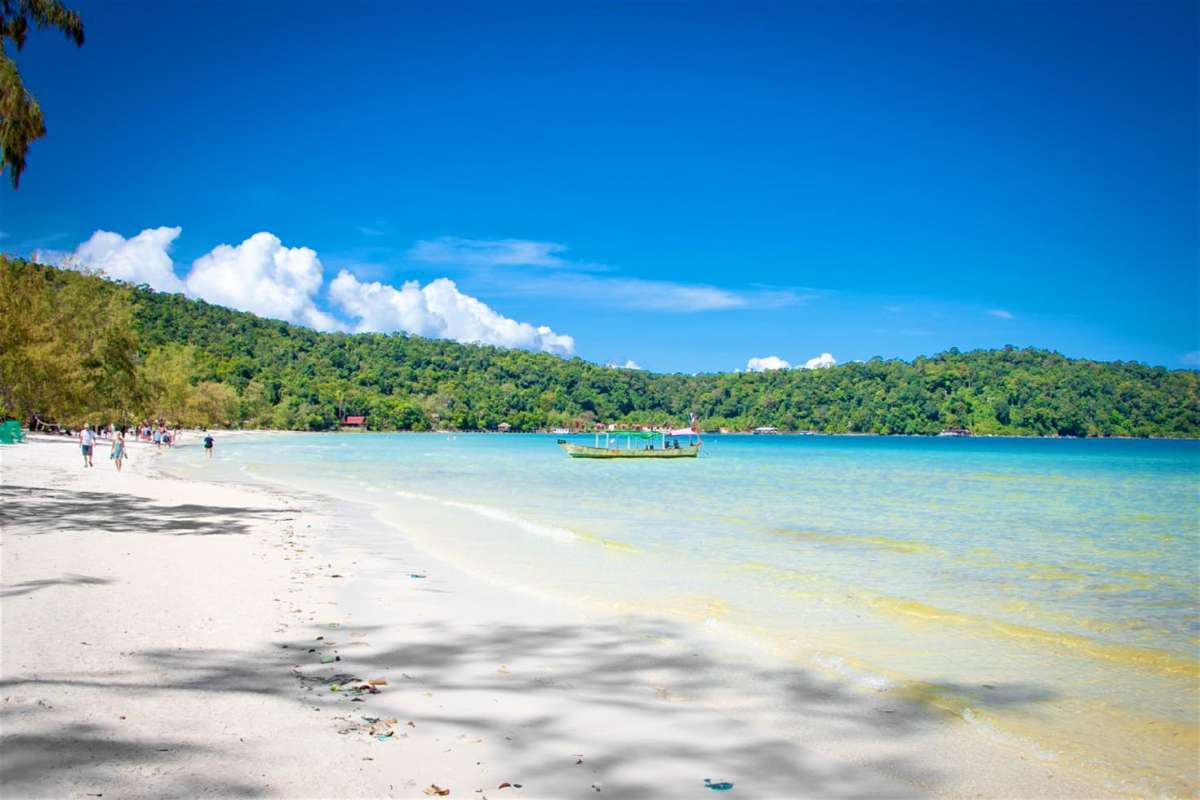 Like any other islands, Koh Thmei also offers you the opportunity for swimming as well as for snorkeling on the house reef. Other than that, its peace and all that mindful sense it exudes cures any souls full of stress or pressure. Breathe and you will feel the nature healing you. 
One note when visiting this island is that DO NOT choose the rainy season (especially June or September) to travel since everything looks dull and poor. Travellers should com here from January to February. During this time, the temperature is not too high and rain only happens for 25% of the time.  
Koh Totang
With a humble length of 1,3 km and width of 0.5 km, Koh Totang is still attracting enough for any eco explorers. The island is 60 kilometers away from SihanoukVille.
There are no roads, no restaurants, no banks, and no ATMs on this eco-friendly island. Since a lot of the facility is lacking in the place, not many tourists or even Cambodians have heard of the place. But I think that is an advantage for those who want to find peace or intact natural scenery.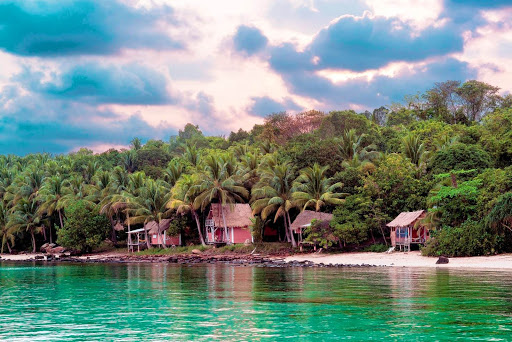 Living on the island are two local families, their dogs, and the staff of Nomads Land Cambodia, which is the only accommodation you can find on Koh Totang. From all the feedback I have seen of the lovely visitors after they've been here, Koh Totang was nothing short of spectacular: the turquoise water lapping at the boat, the lush green islands dotting the sky limits, the palm trees lilting with the wind. 
Watching the sunrise or the sunset in Koh Totang, with all of nature's gifts is a must-do. Try and you'll know why.
People usually travel to Koh Totang from November to March as they want to spend Christmas and the New Year here. In case you want to do the same, make sure to book in advance. You can go there from March onwards too. Though the rainy season around June may bother some, you can consider this time since everything seems to be the cheapest. The scenery is of course still beautiful as ever.