One Day Eating Like A Local In Hanoi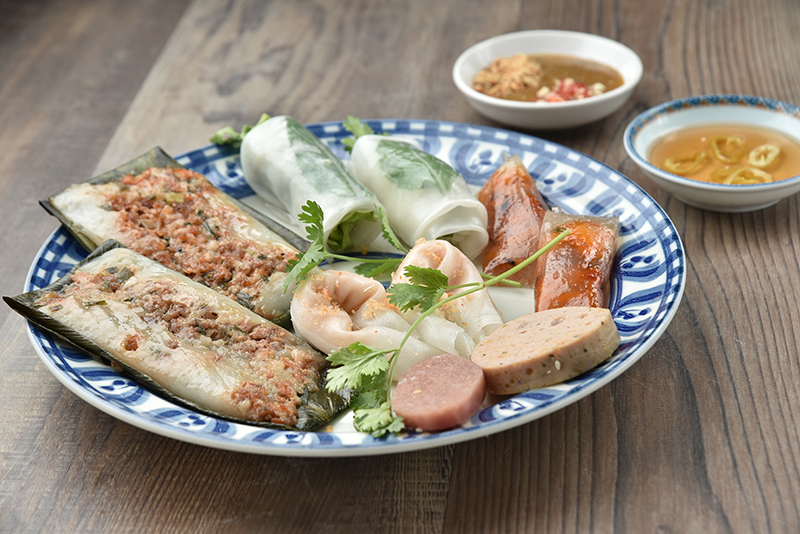 Vietname is world-famous for its diverse and unique cuisine and Hanoi's food is one of the best. Talk about Hanoi, you may think : "Pho and banh mi again?" That's not everything, every corner of Hanoi still has lots of other surprises that you need to spend one day or more exploring all of them. So get ready because this list will give you choices for an amazing food tour for all day.
Breakfast
In the early mornings, the temperature is a bit low, there's often light fog so people in Hanoi like to start a day with a hot dish, which give them enough energy for the morning and avoid stomach ache that may influence their work and study.
- Bún thang (rice vermicelli with shrimp broth, chicken, egg, dried turnip)
This flavorful dish has a complicated recipe: broth made from dried shrimp, chicken bones, pig bones, mushroom, ginger, onion, shrimp sauce, fish sauce; topped with: fried egg, Vietnamese sausage (gio), dried turnip, chicken, mushroom, all are shredded, adding spring onion and cilantro.
Everything is served only in one bowl, guests can season the bowls to their own personal taste with lime, vinegar, chilli sauce, chilli, pepper which are always ready on the table.
Price: 1.5-2$
- Phở bò (rice noodles with beef)
Pho bo is no stranger to all visitors to Hanoi, it can be found easily on any streets. It's light and simple. There are some options for customers: rare sliced beef (tái), well-done beef (chín), fatty brisket (gầu), plate (nạm),stir-fried beef (tái lăn), slow-cooked beef tendon with wine (sốt vang). Tender beef and the and the rich-flavored broth adding a perfectly poached egg is an excellent choice for breakfast.
To Hinduism followers and people that's not a fan of beef, rice noodles with chicken is a great choice. It's similar to beef rice noodles using chicken instead.
Price: 1.5-3$
- Xôi xéo (sticky rice with mung bean)
This is a unique kind of sticky rice with eye-catching yellow color. Although it's a popular food in Hanoi, it's a bit difficult to find because there are few restaurants that sell xoi xeo, it's usually sold by peddlers on the streets.
The ingredients are simples: steam sticky rice with naturally yellow turmeric powder, steamed mungbean that melts in your mouth , and crunchy deep fried shallot on top. If you like, the seller will add a spoon of liquid chicken fat to give it a greasy taste. The peddlers keep sticky rice in a bamboo basket covered by thick blanket so that it's always served hot even without cooker.
Price : 0.5 - 1$
- Banh mi (Vietnamese sandwich) :
Travelers can never know enough about banh mi since there are numerous types of banh mi with different ingredients, flavors and shapes. It's crispy baguette stuffed with meat such as Vietnamese sausage, paté, ham, fried egg, barbecue, grilled pork, shredded chicken…; vegetable such as cucumber, carrot, green papaya, coriander, tomato, potato chips… and sauce such as: chili sauce, ketchup, mayonnaise, sugar butter…
Price: 1 - 2$
Lunch
Lunch time is usually a 1-hour-break of a working day, it's also the hottest time of the day, so everyone usually choose something that's simple and takes little time to eat and then they can take a short nap before coming back to work.
- Bún đậu mắm tôm (Rice vermicelli with fried tofu and shrimp sauce)
As its name, you commonly have rice vermicelli and crispy fried tofu served with shrimp sauce, but people also have some slices of boiled pork leg, meatballs with young rice to make it more flavorful. This dish may be a challenge to some Vietnamese and most of foreigners due to the weird smell of shrimp sauce (made of fermented raw shrimp). But it's really delicious and worth trying.
Price: 1-3$
- Bún chả, nem (Rice vermicelli with barbecued pork, fried crab spring rolls and sweet sour dipping sauce)
One of the iconic Hanoi food not to be missed.  Bun cha is made of grilled pork and grilled pork meatballs. The smokey meat is yummy and greasy and you'll find it's perfectly paired with sweet and sour fish sauce, add chilli, garlic or lime juice if you want and enjoy it with fresh herbs and lettuce.
Crab spring rolls are often served with bun cha. It's bigger than the regular fried spring rolls and the price is higher, too.
Price : 1-3$ (Crab spring roll is about 2-4$)
Dinner
This is probably the most important meal of the day because this is time for the whole family to gather together and chit chat. The restaurants are usually busy at dinner time, customer may have to wait a bit longer than usual.
- Chả cá (Grilled fish)
A delicate dish served in the pan, consists of stir-fried chunks of boneless, fatty fish with spring onion and dill. The fish is simply seasoned with turmeric, pepper and salt but it's flavor and textures are wonderful. The fun part is the staff will cook the fish right on the table, when ready, you can enjoy the fish with rice vermicelli, peanuts and shrimp sauce (or fish sauce).
Price: 4-8$
- Phở cuốn, phở chiên ( "Pho"paper roll, fried "pho" paper)
It's "pho" with beef again, but without broth. The rice paper are not sliced into noodles, it's served like spring rolls with stir-fried beef and herbs inside. Customer don't need to use chopsticks, just dip them in sour sweet dipping sauce and enjoy.
Fried rice paper are square piece of noodle, when they're deep fried, the layers of rice paper puff up like little pillows. Then they're covered in stir-fried beef.
Price: 3-8$
Night
The city never sleeps at night, especially in the Hanoi Old Quarter, there are many restaurants that open only from 9pm to 3 am to serve the night owls. When the night falls, the city lights are on, this is the best time to taste Hanoi street food with beer.
- Bánh cuốn (Steamed rice roll)
This soft, slippery kind of pancake is super simple but only skillful people can make it right. They put a scoop of liquid mixture of rice flour and cassava flour on a special pan, it solidifies quickly into a extremely thin, delicate and soft sheet, they add a little minced pork and mushroom then roll it up.
Everything is no more than one minutes 
It's served with sour and sweet dipping sauce and vietnamese sausage (chả). 
Price: 1-2$
- Snails 
Snails are delicious with fresh, chewy texture. They are usually boiled with herbs like lemongrass, lime leaves. But the key is the dipping sauce: fish sauce, sugar, lime juice, lemongrass, ginger, chilli, garlic, lime leaves, all harmonize with each other to create outstanding flavors. There are options of big snails, small snails. Stir-fried snails with tamarind sauce or with coconut are also delicious and not to be missed.
Price 2-4$ 
Snacks
When roaming through Hanoi Old Quarter, you'll have the opportunity to taste numerous delicious street food with surprisingly low price. Here are some typical Hanoi's snacks you can try:
- Chè (Sweet soup) 
- Bánh rán đường/mật (Vietnamese donut with white/brown sugar) 
- Cốm (Green young rice) - only in autumn 
- Bánh tôm (West Lake shrimp fried cake)
- Bánh Giò ( glutinous rice cake stuffed with minced pork)